The First 100 Days: Executive Round Table with Business, Industry & Educational Leaders
June 15, 2017   7:30 am – 11:45 am
Sponsored by the Center for Political Leadership in Partnership with
Fox Valley Technical College, Bordini Center for Innovation
Date & Time: Thursday, June 15, 2017   7:30am-11:45am
Location: Bordini Center for Business and Innovation, Room BC112
Download the PPT: Advancing Effective Leadership Practices in Business, Industry, Community, and Government

"It's important that we all understand the impact that public and governmental leaders make on our economic environment. Business and industry leaders will come together to discuss their industries and the potential impact of the first 100 day agenda on growing jobs and improving our economic outlook. I'm pleased that our team at the Center for Political Leadership was able to focus on the need to support jobs and economic growth in Wisconsin," said Terri McCormick, President, Center for Political Leadership.
Event Objective: Create a dialogue across business, industry, and educational support agencies to identify opportunities and challenges for economic growth and job development within the Framework of the First 100 Days Economic Agenda.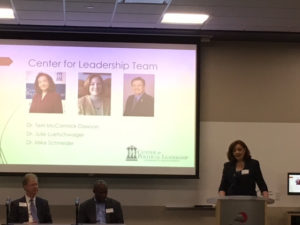 Participants will address opportunities and challenges for: Manufacturing, Business, Construction, and Business Support Services providing a true cross section of the Wisconsin economic climate, within the White House's First 100 Days Economic Agenda.
Panelists: Dr. Terri McCormick, President, Center for Political Leadership; Dr. Susan May, President and Chief Executive Officer for Fox Valley Technical College; Bill G. Smith, NFIB/Wisconsin State Director; Buckley Brinkman, WCMP Executive Director; Sherman Barnes; James Golembeski; Rod Ghormley, President Down Home USA LLC; Beth Pritzl, Director of Research and Technology for the Fox Cities Regional Partnership; Karen Harkness, Director of Community and Economic Development for the City of Appleton: Manny Vasquez, Vice president of Business Development for Pfefferle Companies.                       
-XXX-